You could suffer a personal injury in just about any way imaginable with car accidents and slip-and-falls ranking among the most common ways such an injury occurs. When an accident or other mishap results in injury, medical costs and lost income can add up fast and cause you to need the help of lawyers. Accident lawyer advice is invaluable in helping you decide whether to accept an insurance settlement or fight it.
The combination of doctor bills piling up at the while the ability to work is compromised by the injury is what causes many people to file for bankruptcy due to high healthcare costs. Attorneys who handle car accidents can help to build your best case against the offending party and help you obtain the best legal outcome.
Accident lawyer fees mostly are based on the amount of any settlement that you might win. An attorney percentage of settlement makes it possible for you to afford a personal injury attorney while presenting the best legal argument. Auto insurers and the other party in the accident are not people you can trust to do the right thing and be honest about who caused the accident and is liable for costs.
Everything You Need To Know About Personal Injury and Accident Lawyer Services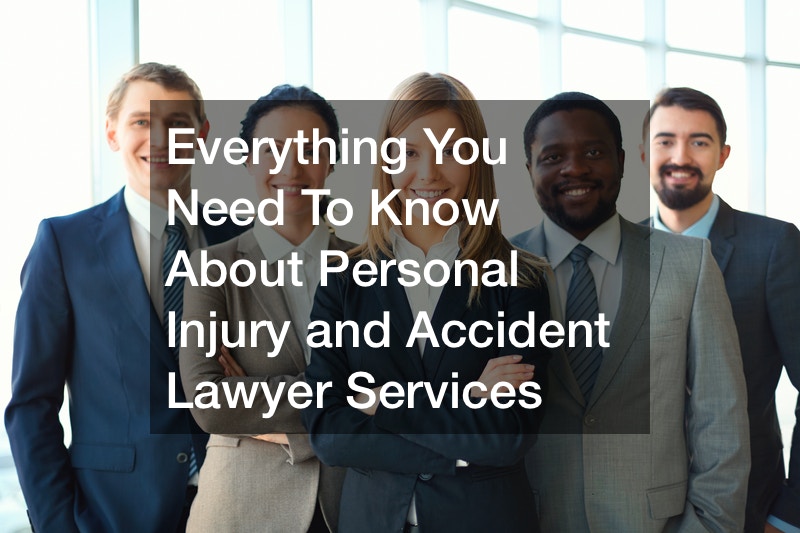 If you are someone (or know someone) who has gotten into a personal injury lawsuit (due to a motor vehicle accident or wrongful death as a result of a car accident) you have come to the right place.
When it comes to auto accidents or a property injury, personal injury and accident lawyers services are often needed This is important to consider, as lawyers can help rectify such legal issues. Be sure to keep reading below as there are a number of factors to keep in mind when looking for a personal injury or accident lawyer to rectify your case.

1. After helping you win a case, attorneys reap some of the financial rewards so keep that in mind when hiring a personal injury or accident attorney.

Injury attorneys, if successful at settling your case or if they obtain a favorable verdict at trial, will take a portion of the money won, generally about 33%, as payment for their efforts on your behalf. Although this seems like a lot of money, you are still keeping the other 2/3rd of the payment. Further, the money the lawyer keeps is payment for all the services they provided you to help you win in the first place, so it is a fair amount. That said, this is only true if they win the case so be sure to provide all the facts to your attorney as you want to set yourself up for success.

2. Nearly half of all personal injury cases are automobile accidents, meaning you should seek the assistance of a personal injury attorney to protect your interests.

About 50% of all personal injury litigation involves automobile accidents, making this type of litigation one of the most popular matters. For that reason, you should find a litigation attorney that is well-equipped to deal with automotive accidents as they will have the most knowledge surrounding these types of cases. Be sure to reach out to an attorney as soon as possible, as that is the best thing you can do following a motor vehicle accident.

3. When it comes to auto-related cases, plaintiff's are generally successful in litigation (likely due to their lawyer's assistance.)

When it comes to motor vehicle-related incidents, plaintiffs are typically successful 61% of the time. This is likely due to the help they have from attorneys, as lawyers are well-equipped to deal with such cases and are generally able to fight for you against the defendant. For this reason, be sure to hire an attorney as soon as you can as you want to get the law, lawyer, and case on your side so as to win the litigation matter.

If you found these tips helpful, then you are on the right track to finding an accident lawyer that can help you in a personal injury matter. Be sure to keep the aforementioned facts in mind, as they are sure to help you find the attorney that's right for your case. First, keep in mind that after helping you win a case, attorneys reap some of the financial rewards so remember that when hiring a personal injury or accident attorney. Second, nearly half of all personal injury cases are automobile accidents, meaning you should seek the assistance of a personal injury attorney to protect your interests. Lastly, when it comes to auto-related cases, plaintiff's are generally successful in litigation (likely due to their lawyer's assistance.)