Proper estate planning can protect your assets and your family. If you have never met with estate attorneys to discuss wills and other items like trusts or power of attorney, you could leave yourself open to losses.
Imagine being in a scenario where your hard-earned assets could be seized from you, you fall into a conflict amongst loved ones, or your wishes are not carried out when you are medically unable to express them. Working on an estate plan today can ease stress and conflict amongst your loved ones and preserve the bulk of your estate from falling under penalties. Today's estate plan can establish a plan for handling debts, managing medical expenses, and more, with legal documents available for each scenario.
Check this estate planning information sheet below as we explore some joint estate planning scenarios. We will help explore what is estate conservation and some of the main strategies you can use today to avoid heavy taxation or your assets being dissolved by improper parties. Read on to find out more.


Most people don't think they'll ever need estate planning because they often don't want to imagine the future or they don't' believe they'll leave anything important behind. However, an estate planning attorney has more to offer than just writing a will or ensuring that your loved ones get your valuable items. You can plan more than that.
It's better to be prepared than scramble to find emergency estate planning solutions, which can be even more expensive because you need to expedite the process. Therefore, you should start thinking about this legal matter once you're settled. If you have a family or a property, you need to consider the future and anything that could happen. Estate planning in a nutshell, will help secure your loved ones and prevent legal fights.
You might want to search for an estate planning FAQ before your meeting with your attorney. It'll provide some great insight and help you understand everything better. If you can't find answers to your concerns, you can ask your lawyer. Do you know what a trust based estate plan involves? It's time to find out and decide if you want to begin the process.
Let's discover more reasons why you need to start estate planning today.

Estate planning is a very important part of planning for the future. It's something that many people avoid or put off until the future because it can be hard to know how much time you have. You may have a lot of years or just a few. To make sure that your heirs don't have to get a probate lawyer when you pass, you need to take advantage of estate planning events to get your estate ready for what is to come.
If you have questions about estate planning, make sure you have a good lawyer to ask them. You may also need an estate planning accountant to give you estate guidance. When you have the right people to help you with your estate planning, you can get great advice and know just what you need to do to keep your estate safe. This should mean that your heirs won't have to fight over assets or go through probate court.
When you have an estate plan in place, it is much easier to know that things will be taken care of when you're gone. It can help to assuage any worry you had about your loved ones and how they will fare.
When you have assets that you want to keep safe after you're gone, it's a good idea to do some estate planning so that everything will be thought out and done correctly. An estate planning attorney is a perfect person to help you with this. They can offer you estate planning guidance and give you all of the estate planning help you need to create a good plan.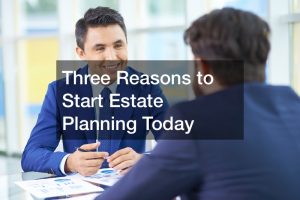 If you are engaging in estate planning for beginners, you will have a lot of questions about what to do and how to do it. You need a good attorney to help you with all of your questions and to bring up some aspects of planning that you might not have thought about, such as creating a trust. Personal estate planning is important to do while you are still able. You could wait too long and have heirs fighting with each other later.
Getting your estate taken care of can be a big load off your mind. It's always better to have this taken care of just in case. Once your estate planning is done, you may have more peace of mind about what will happen with your family once you're gone.
Only about two in five adults in the United States have a will or living trust. This means that many will eventually have their assets distributed by the state, or their families may end up in prolonged battles over the future of the estate. A simple way to avoid this is by starting the estate planning process early and by having a trusted real estate attorney to walk you through the process. Most people want to put their assets in order but simply "haven't gotten around to it." Here are the top three reasons that you should "get around to it" today.
Protect your Assets
You may assume that estate taxes will automatically diminish your family's inheritance, or that creditors will end up seizing a large percentage of your assets. This doesn't necessarily have to be the case. You'll want to consult with a real estate attorney (or, in some cases, a tax attorney as well) to discuss setting up a trust to protect your assets, but there are multiple ways to ensure that your legacy is protected and a trusted family executor oversees your assets.
Protect your Children
This is multi fold. On the one hand, you'll want to put together a will outlining who will become the guardian of any underage children in your care. On the other hand, you can protect children from mismanaging an inheritance by selecting another family member to oversee their trust. You can also give your children access to their trust once they reach a certain age. This ensures that your money is used wisely and that your children remain in the proper physical and financial care after you have passed away.
Avoid Probate
About three in five individuals look into estate planning just to avoid probate. The process includes an attorney (such as a real estate attorney) proving before a court that your will is valid after you have passed away. It's a public process by which your assets are distributed, debts are paid, and property is appraised. In addition to putting your whole financial history on display, the probate process can rack up legal fees–on average, costing about 5% of the estate's total value. Working with a real estate lawyer in advance saves survivors and loved ones from having to acquaint themselves with the tedious intricacies of probate law later.
After you get your affairs in order, you should have peace of mind knowing that your property and assets are protected after your death. Don't wait until you are infirm or have a short timeline to protect your legacy. If you continuously say that you'll "get around to" planning your estate, you never will.